A conversation on equitable lending with Che Wong
By: Mark Feldman, Content and Creative Strategist -
Che Wong is a Senior Business Lender and the Manager of the Equitable Lending Initiative. She's been with Craft3 for nine years. Che has also worked with what is now Business Impact NW, Mercy Corps, and served as a Peace Corps volunteer in Cape Verde, Africa. I sat down with Che in May to learn more about her background, her understanding of equity, and her story of how the Equitable Lending Initiative came to be.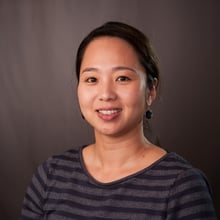 What led you to your interest in equitable finance?
I've long been interested in finance as a tool for alleviating poverty. While majoring in business administration at the University of Oregon, I studied abroad at Waseda, a university in Tokyo. There I learned about and microfinance. Something immediately clicked for me. Microfinance immediately struck me as a powerful tool, a way for people to create their own employment and through that transform families and communities.
After I graduated, I joined the Peace Corps as a Microenterprise Development Specialist in Cape Verde, Africa. I had studied microfinance, but I don't think my work there made a huge difference. Looking back on that experience and knowing what I know now about community development, this isn't surprising. I didn't know the local language (officially Portuguese) or the culture, I didn't have relationships to draw on or partners to work alongside, I didn't fully understand the policy context in Cape Verde and I was only there for two years. I learned a lot personally, however, and it set me on a path that I've followed ever since.
How did the Equitable Lending Initiative start?
In my current role, starting in 2017, I focused on outreach to communities of color in and around Seattle. Through that work, we quickly realized business owners faced other challenges and we weren't meeting them where they were.
Small business owners found our loan application process cumbersome and we were requiring a long list of documents and materials. We also knew that many entrepreneurs of color, even if they completed the application, would be unable to qualify for a loan. Lack of collateral, limited equity, and lower credit scores were the main barriers.
The Equitable Lending Initiative started when a group of lenders and underwriters began meeting informally to talk about our mutual frustration. We felt we weren't doing enough to reach and serve entrepreneurs of color.
What did the ELI team learn?
Part of our work was learning more about the historical context, about how systemic racism has impacted people's ability to build wealth. And how that directly impacts how someone is evaluated when they apply for a loan.
Our research helped us learn more about why black households have about ten times less wealth than white households. Redlining, limited job opportunities, and wealth stripping practices such as subprime and predatory lending are a big part of this story.
In addition to learning about the history of racial inequity, we also spoke with around a dozen other institutions, mostly our peers in the CDFI industry, to learn how they approach to lending to entrepreneurs of color. We learned that successful lending to entrepreneurs of color almost always includes some technical assistance, whether coaching, supporting loan preparedness, or other business services. These conversations also helped affirm our assumptions around the challenges and barriers faced by people of color in accessing credit.
What did you do with those findings?
We wrote two internal memos outlining our recommendations. One focused on underwriting barriers and solutions, particularly barriers tied to the racial wealth gap. Because of the racial wealth gap, entrepreneurs of color often have limited collateral and limited equity to contribute to a project. With limited wealth and greater financial precarity, they are also more likely to have experienced credit challenges — often because of medical bills or other emergencies outside of their control.
The second memo focused on Business Services. We can't lend effectively to communities of color if we're not willing to invest in business coaching, assist pre-loan application and connect entrepreneurs of color to professional services such as accountants and lawyers.
The Equitable Lending Initiative would not be possible without the support and collaboration of our many partners. This essential support includes grants and capital.
What changes did this lead to?
Thankfully, those two memos didn't just sit there. We used them to make significant changes to how we underwrite. We'd learned that we needed to make our loans simpler, more affordable, and more flexible. After much collaborative work, in 2021 we overhauled how we underwrite and process loans up to $250,000 for entrepreneurs of color.
We lowered the credit score requirement; allowed for higher personal debt-to-income ratios; stopped requiring personal collateral for loans under $150,000; reduced interest rates to 3-5% fixed; and waived loan fees, typically 2%, and reduced closing costs to a flat $200 fee. We also streamlined the application and underwriting process for all applicants!
Historically we have not been a technical assistance provider, but we changed course because of what we'd learned. In 2021 we launched a Business Services program and hired Aldo Medina Martinez as our first ever Business Services Program Lead. It's an honor to supervise Aldo and he's jumped right in at Craft3. He's an experienced business coach and advisor, with a focus on empowering entrepreneurs. He's also a native Spanish speaker. In addition to one-on-one coaching, and loan readiness support, Aldo coordinates a referral network of business service providers, with subsidies available for low-income entrepreneurs of color.
What are the risks of not doing this work?
As I understand it, the economic justice work Craft3 is involved in is connected to a much broader push for social justice. This push became more intense after the murders of George Floyd and Breonna Taylor, to name just two.
If we don't focus on economic justice, the wealth gap will grow as will the inequities and violence. I'm an optimist, but I believe if we choose not to act things will get worse.
What does equity mean to you?
For me it's about justice and financial inclusion. We're all part of the same system, but we don't start off in the same place by design. It's crucial to understand those differences and the barrier they can create. For me, the next step is making adjustment or corrections to address whatever injustice exists. The goal is always to have those adjustments or corrections lead to lasting, systemic change. It won't be easy and it will take time, but it is possible, and we are not doing it alone.