A conversation on Shari'a-compliant financing with Saif Hakim
By: Mark Feldman, Content and Creative Strategist -
Saif Hakim is a Commercial Lending Team Manager and the leader of Craft3's Shari'a-compliant financing initiative. In addition to over two decades of experience as a commercial banker, Saif is an active member of the Muslim community in and around Seattle. One way he's giving back to his community is by developing innovative financing options for Muslim entrepreneurs and leaders.
Why is there a need for Shari'a-compliant financing?
There is a growing Muslim population in the Pacific Northwest and many Muslims live in accordance with Shari'a principles, which prohibit charging or paying interest. This prevents those Muslims from accessing conventional capital, which can have serious repercussions for entrepreneurs and communities.
Often someone starts a mosque or a community center in a rented space. The mosque may grow as it builds a following. They may then seek to buy a building. But throughout much of the Pacific Northwest, the cost of real estate is high and it's hard to raise enough money to purchase a property outright.
For the Muslim community, this means fewer and less developed community facilities. We're working to change this by developing Shari'a-compliant financing options.
What was the process of creating Shari'a-compliant real estate financing?
Because I knew Shari'a-compliant deals would be higher risk, at least at first, I looked for strong alignment with our mission. Commercial real estate financing for Muslim organizations and nonprofits was a way to make a big difference in the community.
We started developing a Shari'a compliant commercial real estate product in 2019. We were working with Masjid Madeena, a mosque in Bellevue, Washington that was looking to buy two pieces of property. We used this as a test case. It took four to five months and lots of collaboration with an Islamic scholar and our legal counsel.
Rather than charge interest on money borrowed, we structured the transaction as a partnership (musharakah) between the financier and customer. The two parties purchase and own the asset (commercial real estate) in common through a special purpose entity (SPE) with the percentage of ownership based on the amount of funds each party has invested toward the purchase.
Over time, the mosque will make monthly lease payments to the SPE. Those payments represent the profit generated by the asset and are distributed to each party based on their ownership. Eventually, the mosque will be the sole owner. The main difference between this structure and traditional commercial real estate financing is the risk of ownership taken by Craft3. If the asset value declines, Craft3 must share in the loss, whereas traditional financing requires the customer to pay the lender in full regardless of the asset value or success of the venture.
Word got out and we did a few more Shari'a real estate loans. I was thrilled, but I knew that to meet community needs we'd need to offer broader business financing.
What was the process of creating Shari'a-compliant business financing?
In 2021 we started working with Business Impact NW. Together, we received funding from the Northwest Area Foundation to research and develop a Shari'a-compliant general business lending product. We did some market research, worked with our Islamic scholar, and hired a Shari'a consultant – all in order to figure out the best way to structure this financing. We now have loan documents that we're reviewing, and we will be ready to launch soon.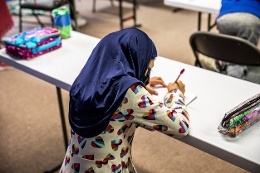 This product is designed to fund things like working capital and equipment purchases. Our product mimics a lease, an approach that is known as ijara financing. Ijara financing is asset-based rather than credit-based. In the case of equipment, Craft3 would purchase the equipment and lease it to the business for a set term at the end of which they would buy that equipment for a dollar.
Craft3 can also use this approach to value business assets and offer funding by purchasing those business assets. The business or organization would then lease those assets back from Craft3 for a set term.
"I love the creative part of my work. It's not just underwrite a loan, close a loan, and repeat. It keeps me on my toes and doesn't get monotonous."
What was the process of building trust, engagement with community?
Since 2018, Craft3 has been part of the Muslim Community Finance Coalition (MCFC) convened by the Seattle Public Library. This coalition has brought together local CDFIs (Business Impact NW and Craft3), and credit unions as well as community members, including Muslims who work for the City of Seattle and King County. The best way to connect with the Islamic community and build trust, however, is by focusing on imams and other religious leaders—which this coalition has done.
As we've worked, more and more organizations have become interested and gotten involved. Current partners include the Muslim Association of Puget Sound, the Small Business Administration, and the Washington State Department of Commerce.
Are there others doing similar work?
A growing number of lenders are working in Islamic finance. I believe Craft3 has an opportunity to continue to be a leader in Shari'a-compliant business financing. I think we've got a strong approach both from an Islamic law perspective and from a banking perspective.
We're looking to share this knowledge across the country. We plan to offer the product and documentation to other CDFIs through a licensing agreement. We would get some benefit and participating CDFIs would save money, time, and resources because they would not need to develop the product themselves.
How does Shari'a lending fit with Craft3's focus on equity?
I see our lending to entrepreneurs of color and our lending to Muslims as closely related both in their goals and their approach to underwriting. In both we're striving to remove barriers to accessing capital and opportunity. These barriers hold back entrepreneurs and entire communities. My goal for Craft3's Shari'a lending is attaining equity. Quite simply, I'd like to be able to offer Muslim businesses the same things we offer non-Muslim businesses.
In 2021 we changed how we underwrite loans for entrepreneurs of color and that helped us develop the ability to move into Shari'a financing. For loans to entrepreneurs of color for less than $150,000, we no longer require personal collateral. Similarly, Shari'a loans are not collateralized. We're working hard to figure out how to make impactful loans even when they're perceived as "riskier" by traditional financing institutions.
What's next?
I think we'll be busy with our ijara business financing product once that launches. I'd like to develop a Shari'a-compliant line of credit, but I need to learn more about how that could work.
Lastly, I'd love to create a Shari'a investment fund that would follow halal principles. Halal is a way of life, a set of permissible practices covering everything from what you choose to watch to where you invest your money. A growing number of Muslims in the Pacific Northwest are looking to invest but may not want to purchase stocks in companies that deal in pork, alcohol or other haram (forbidden) activities.
In a Shari'a loan fund, investors would receive a portion of the profits from the loans. We could use the money to fund mosques and Muslim-owned businesses. It would give individuals and Islamic organizations an option for halal investing while supporting the local Islamic community and Muslim-owned businesses.